Der er mange måder at have en depression på. Det er ikke nødvendigvis tårer, træthed og tungsind alt sammen. Tværtimod kan mange depressive lade som om alt er fint – de kan nærmest overkompensere for hvordan de har det indeni. Måske kan jeg nikke genkendende til det.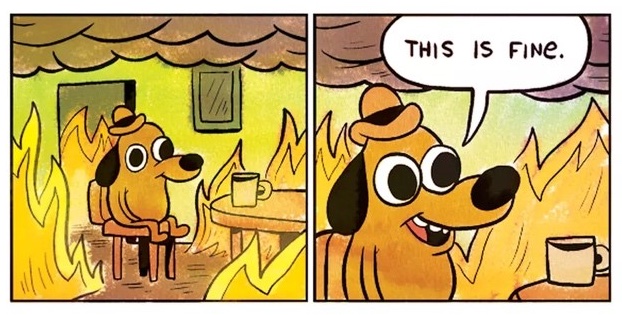 Depression er ikke en smuk sygdom. Det er ikke attraktivt. Hvem vil omgås en person, der er pessimistisk og ikke "bidrager" til god stemning? Find bare ét menneske, der vil det, og bring dem til mig – så nominerer jeg dem til Nobels fredspris. Det er desværre den hårde sandhed – hvem kan så bebrejde en depressiv for at spille den glade (falske) rolle? Og hvor må de besidde styrke, hvis de tør vise deres sande følelser.

Så, tilbage til "værelset" – som jeg har valgt at beskrive skriftligt frem for visuelt, da jeg er så flov over dets tilstand. En mærkelig blanding af følelsesmæssigt værdifulde genstande og gamle boner pryder trapperne op til hemsen, der ikke har været støvsuget i Gud ved hvor længe. Tøjet smidt på sengen har ellers ligget oven på stativet alt for længe, og der er risiko for, at det nu er krøllet. Bunken af notesbøger og tasker på sengen er støt vokset i flere uger, uden hovedpersonen har orket at gøre noget ved det – selv om hun længes efter et rum, der udstråler Bo Bedre (frem for Bo Nedre). Der ligger poser med skrald her og der … You get the picture – men det er vigtigt at understrege, hvordan håbløshed kan manifestere sig, når den ikke umiddelbart vises til omverdenen.
Det er provokerende at få at vide, når man har en depression, at man "bare" skal være "glad", fordi man jo har det så godt. Som om man ikke kan tillade sig at være "nede". Tænk på alt det, der kører for dig! Smil! Det skal nok gå alt sammen!
Når først sygdommen får lov til at brede sig, kan den "inficere" selv de områder af ens liv, der giver mest håb og glæde – så faktisk er det dybt skræmmende og kontraproduktivt at tænke på ens succeser, når man har det mindre godt! – da følelsen af håbløshed flyder over i alt det gode og "farver" oplevelsen af det. Lige så vel kan man ikke smile en depression væk; og ja – vi er godt klar over, at det bliver bedre på et tidspunkt, men det er jo ikke bedre -lige nu-.
Der er ikke noget, jeg hellere vil, end at føre mine idéer og projekter ud i livet. Komme i gang med arbejdet, så at sige – vise verden, hvad jeg kan og vil. Jeg tror, det samme gør sig gældende for enhver anden, der er ramt af denne svært uretfærdige sygdom. Hvorfor lige mig? Hvorfor nu? Hvorfor så jeg det ikke komme? Suk altså, er jeg ikke nået i mål med min recovery endnu, efter alt det arbejde jeg har lagt i det? Hvor meget mere skal jeg udsættes for, inden jeg er fri?
Jeg får regelmæssigt en overvældende følelse af ekstrem panik, som jeg ikke kan komme ud af, hvor det føles som om tiden går uhyre langsomt men alt for hurtigt på samme tid. Når jeg siger, jeg ikke kan komme ud af det, betyder det, at jeg hverken kan fortælle, hvad der foregår inden i mig – eller skrive. Jeg er i mine følelsers vold og der er en "blokering", der forhindrer mig i at få ordene ud.

Jeg har ikke ord for, hvor skræmmende det føles. Ikke at kunne udtrykke mig rationelt og klart omkring, hvad der sker i mit hoved … shit. Og jeg bander aldrig, men shit – og mere til. Jeg tænker, det svarer til en løber, der mister et ben, eller en kunstner, der bliver blind. Måske lidt overdrevet, men forståelsen fremmes.
Der er meget mere, jeg kunne skrive om depression, for lige nu er jeg i stand til det – men hvem ved, om evnen er væk i morgen? Når jeg ikke kan styre, hvornår "panikken" kommer, og hvordan den får lov til at dirigere mit liv, hvad skal jeg stille op? Jeg vil ikke udvikle mig til kontrolfreak, men jeg kan sagtens se, hvordan man kan blive det – så længe man ikke kan styre fundamentale aspekter af sit liv, så må man da finde andre områder, man kan!
Det var, hvad jeg havde at sige om dette emne i dag, så jeg håber, det hjalp nogen. Det hjælper i hvert fald mig at skrive.
Del gerne dette opslag, hvis du mener, det kan hjælpe nogen.